Best Ashtanga Vinyasa and Hatha Yoga Teacher Training
Under the guidance of expert Ashtanga Yoga Teachers, Atri Yoga Center offers the best Ashtanga Vinyasa Flow Classes in Rishikesh.
Ashtanga Vinyasa Flow yoga speaks about the eight limbs of the body and is a rigorous form. Gifted to the world by the Ashtanga guru, Sri K. Pattabhi Jois, it involves a progressive series of positions merged with gaze and breathing practices.
The form differs from other forms in the aspect that it is more dynamic, whereas most other forms are static in nature. The modern-day form of traditional yoga, Ashtanga Vinyasa, is an integral part of the Yoga Teacher Training courses conducted by the Atri Yoga Center.
The entire curriculum followed by the school is based on the rules laid down by Atri Yoga Center. Whether you take up 200 hours or 500 hour Yoga Teacher Training course, Ashtanga Vinayasa lays down the foundation for the most basic to more advanced asanas. We employ Certified Yoga Teachers and Ashtanga Gurus so that our students can receive the required guidance and excel in their field. It is dedicated to a more refined practice and aims at receiving heightened benefits in a short span of time. Bridging the gap between a strong mind and a healthy body, Ashtanga Vinyasa will bestow the practitioner with fitness, weight management, and enhanced mental state, as the program is not just about postures but also includes meditation and pranayama.
The level of the student is understood before teaching him/her the course they have enrolled under. While 200-hour Yoga Teacher Training course students are taken through Series 1 of Ashtanga Vinaysa, students from 300-hour and 500-hour Yoga Teacher Training courses are taught Series 2.
Also, for students at higher levels, specific instructions are given to students so that they can identify the areas they need strengthening and correct the wrong steps they may unknowingly follow.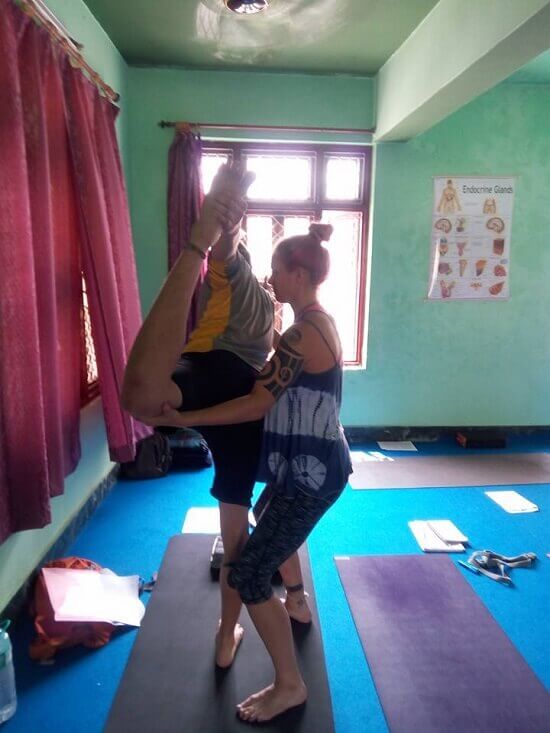 Schedule of Ashtanga Vinaysa
Understanding that this is a more evolved form of yoga, greater emphasis is laid on this specific form. Every day we will focus on this form for around 2-2.5 hours under the guidance of certified Ashtanga Vinaysa Teachers and Gurus, with help from our staff.
The spacious yoga halls of the school have all the necessary equipments required for performing the asanas. Equipment like Yoga blocks, Yoga belts, cushions and bolsters, also provide the aid required in the whole process of learning.
The school also conducts regular classes of Ashtanga Vinaysa Classes, every day from 8:00 a.m. to 10:00 a.m. For the spiritual seekers who do not wish to take up a yoga teacher training course, we recommend attending Ashtanga classes on an everyday basis first. Know the art form and then indulge when satisfied.
Benefits of Ashtanga Vinaysa flow
The advantages of the Yoga form are categorized into four levels: physical, emotional, mental and intellectual. The physical benefits relate to the body, i.e. making it disease free, healthy, lean and strong. Emotional benefits allow freedom from the bondage of thoughts and emotions. Mental relaxation and ease from stress and anxiety is offered on practicing this form. From intellectual benefits, one can understand that it deals with the conscious and subconscious mind as well as the ego level of the self.
While there are in-numerous benefits of learning Ashtanga Vinyasa, here are a few:
Helps in reducing weight
Soothes out anxiety and stress
Connects the mind and body
Relieves back pain and other body pain
Regulates body heat and combats the cold and flu
Keeps one active and fresh in the mind
Join the Atri Yoga Center of happy yogis and yoga enthusiasts, meet new likeminded people and learn Ashtanga Vinyasa in their Yoga Teacher Training
How to Apply: Fill out the application form and send it to rishiatri@gmail.com, After approval deposit $200 in advance to confirm your place in the course. We will send you mail after receiving your advance fee.
Eligibility: Is anyone interested in learning the ancient Indian system of Yoga and its applied science? It is available for all, irrespective of caste and creed although your eligibility will be assessed after you send us a detailed application form, After checking your eligibility, we will mail you and, you have to proceed with payment, After payment, your seat will be confirmed.
Accreditations: The Yoga Diploma will be awarded by the Atri Yoga Center on successful completion. The course is also certified by Yoga Alliance for 200 hours, 300 hours, and 500 hours of Yoga Teacher Training and is also internationally recognized by the International Yoga Federation the world's topmost yoga organization in the world, and can apply RYT.
Course Syllabus: The yoga teacher training course 200 – hours is to understand
and experience yoga deeply with full attention but you don't feel that you are a complete yoga teacher. This course will give you proper asana pranayama mantra, bandha, shatkarma, anatomy physiology methodology philosophy Alignment, and teaching experience. The system will inspire you to teach to the spiritual seekers. This course will give you an intense yoga asana pranayama practice twice a day and meditation shatkarma (yogic cleansing) art of adjustment philosophy anatomy and physiology once a day six days a week.
Yoga Styles: We have expertise in all kinds of yoga styles to make Yoga effective excellent and tremendous like Hatha Yoga, Ashtanga Vinyasa, Kundalini yoga, Raj yoga, Kriya yoga, Sivananda yoga, and many more. Hatha yoga is a style that balances, the body, mind, and consciousness to bring the state of super consciousness. It is a smooth, stretching, and holding type. Ashtanga Vinyasa is a dynamic flow of poses (asanas), it emphasizes ujjayi breathing, lock, gaze, and base for power yoga. The course includes asana, pranayama, shat kriya, bandha, mudras, mantra, and meditation.